21st Jul 2013                              just five days after Rtd Dasho Col. Rinzin opened the 17th Yangphel Open Archery Tournament 2013 with traditional 'marchang' ceremony, much has happened. The tournament opened simultaneously across nine regional venues of Bhutan on the 16th Jul 2013. In one of the opening matches, led by the chief guest Rtd. Col. Dasho Rinzin, the team 'Karma Yarkay' overcame their much younger opponents. Karma Yarkay has the some of the most senior players of the tournament, averaging age of 70 years. The opening match led by our elder (and their win) heralded auspicious beginning for the tournament.
The auspicious beginning marked start of higher-powered performance! A 12 karey total by an individual used to be novelty in earlier tournaments but since Tashi Dorji of Vajra in Thimphu and Tshering Needrup of Jampeling Const. in Gelegphu hit 12 kareys in the opening matches – the highest that opening day, it has become usual to have at least one, if not several to make that total and more.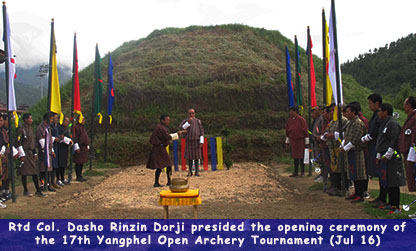 Then three days later, Jigme Norbu – the individual with highest average in last year's tournament, playing this year for 'Druk Shopping Complex' hit 16 kareys in 15 rounds – the highest one day score of an individual in the ongoing tournament. The closest to total is 14 kareys by Tashi Chojay of Zhongarling United in Monggar.
In fact, Tashi Chojay leads all the 1600 tournament participants as of now, with his 30 kareys in 45 rounds/ 3 matches. As of now, he is one of the top 15 archers who will partake in 'Best of Bhutan' shootout for title of 'Best Archer' in Thimphu (scheduled for Sun Aug 18) But going by last year's performance, which showed that those individuals with 32 kareys and above were part of top 15, he may not make it to shootout. But still he will travel to Thimphu during that time, because his team Zhongaling United is one of the two teams that has qualified for knockout stage in Thimphu (scheduled to begin Aug 13). The other qualifying team of Monggar is Druk Yoesel.
Yes, after the 5th day, the league in Monggar is decided and their two teams of Zhongarling United and Druk Yoesel is going to be two of the 72 teams playing knockout in Thimphu. Only 72 out of 267 teams that is participating in this year's tournament will play knockout and by Aug 31, the 3 best teams would be found.
And yes, some teams are already edging their way to the finals. Like for example 'Druk Shopping Complex' (who has Jigme Norbu but is supplemented by Dechen Tshering) has made 48 kareys in a single match – the highest of so far. But Vajra of Thimphu has hit 45 kareys in their first match and Zhongarling United of Monggar has 44 kareys. But Zhongarling as of now has the highest league (3 match) total of 118 kareys. Is the east going to beat the west this time? The time ahead – another 40 days of the tournament will only tell. And going by what has happened till the fifth day, it will only mount.
And also because last year's team champion 'Pelden Group of Co'  and 2011 champion 'Phoja' are yet to play. Pelden Group would be playing on Jul 28, Aug 1 and Aug 11 and the reigning team champion still has their star player and last year's Best Archer Tshewang Dorji. And 'Phoja' led by HRH Prince Jigyel Wangchuck has Sonam Lhagyel and Kezang Jigme. Their performance in August should also be massive.