Aug 22                        the Yangphel Archery Committee has declared the winners of the league based prizes, which is the most of the prizes. Except for the Finals Most Valuable Players, all of winners for the individual prize categories have been announced. Along with Finals MVP, the three best team prize categories are yet to be decided which would be during the final match of Sat Aug 31.
Since all of the tournament participants would play three league matches despite the team performance, so most of the prizes are based on league in order to provide the same level of opportunities to all.  These are winners and the prize items: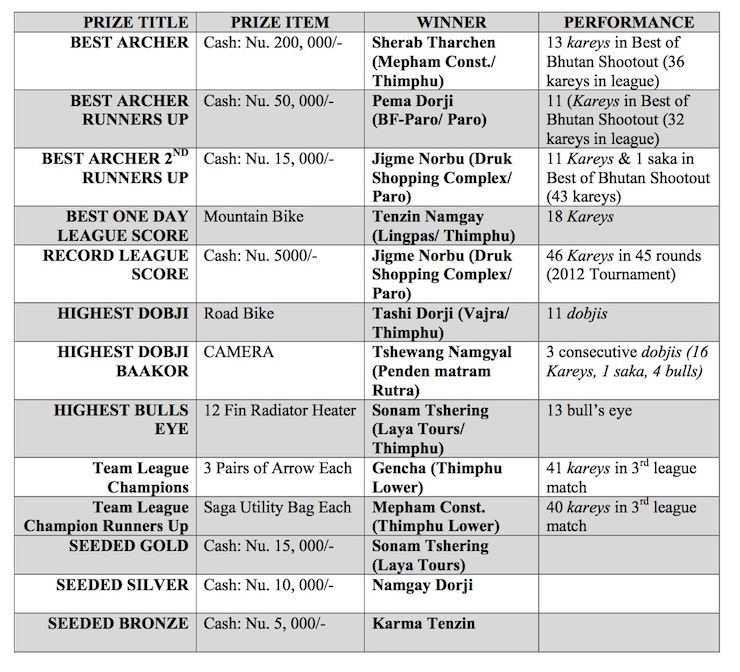 One other prize category and winner not mentioned beforehand is that of Record Bull's Eye Hits that has been made this year by Jigme Norbu as he totals 14 bull's eye in 3 league matches.  He would be given the prize during the next year's tournament for the record. This year he would be receiving the prize for record he set last year of highest league score ever (46 kareys in 45 rounds)
For the Best Team Prize, there is Apple IPAD2 with Whirlpool Washing Machine (for each player of the team), the 2nd Best Team would win Apple IPAD Mini and Haier Refrigerators while the third best would take Lenovo Lap Top and Godrej Microwave Oven. The only individual prize left to be won is Ngultrum 15000/- for the Finals MVP. These are the cream of the prizes.
The 3 best teams would be decided during the finals and Finals MVP would also be decided during the Finals even though potential winners have started counting from the ongoing stage of the quarterfinals.
With one more quarter final match to be completed, we have 8 winners – the 2013 semi finalists and we will see tomorrow (Aug 23) whether last year's team champion 'Pelden Group' will join them or not, as they battle Phuentsholing's Penden Tsi Wa and Trashigang's KDS.