18th Jul 2014              at the end of the 8th day of the tournament, much has happened. Some of the leagues (in different regions) of the ongoing 18th Yangphel Open Archery Tournament has been completed. Some individual players and then teams are shining and have already booked their place in the eliminations at Thimphu Changlimithang.
From Bumthang, Laya Tours and Chithuen Charos are coming to the Changlimithang. Laya Tours have hit total of 123 kareys – the 2nd highest so far in the tournament. Only team Ananpanan from Paro has the higher total of 135 kareys. While Ananpanan have played all of their 3 league matches, the Paro's league will go on till July 26 to have other teams complete all of the three league matches, that a participating teams gets to play in the tournament.
The top player of Ananpanan Yeshi Dorji has hit total of 41 kareys, the highest league total of the ongoing tournament so far. The highest individual league total in the 18 year history of the tournament is 46 kareys by Jigme Norbu. Many believe that there would be others that could surpass Yeshi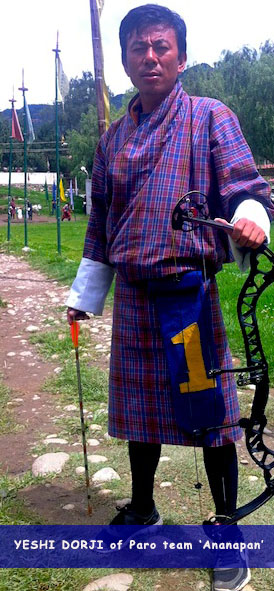 Dorji's total, among whom the most likelihood would be Phub Dorji of Tshering Metog (Thimphu Phaka team) who has 33 kareys from just two league matches. Then there is Jigme Norbu of Druk Lhayul Const. who has two match total of 24 kareys or Gem Tshering who has 14 kareys from one match. But it is given that there would not be many.
Even the team total of 135 kareys (helped by Yeshi's amazing 12, 12 and 17 kareys in his 3 league matches) may not be easily matched. For example, two team qualifying from Gelegphu has 77 and 78 kareys (of teams 'Nim Dem Construction' and 'Druk Phunsum Construction') , which are quite above average but bit far down from Ananpanan.
From Monggar, Selwai Melong and Kilung Wanchen Dharma comes to Changlimithang eliminations and has total of 91 and 95 kareys. Not that karey total matters, given that it is the points that each team gathers from each league game that the 'automatic' qualification is based on. Only for wild card entries (10 teams this year) does the karey total matter.
From among those teams that have not received automatic qualification, ten teams with highest karey would receive wild card entry into the eliminations. There are 62 teams that would qualify by points and ten more would be added as 'Jokers' or 'Wild Card Entrants" In total 72 teams would qualify for the eliminations. Each region has proportionate to total teams, certain number qualifying.
From Samdrupjongkhar, the newest league of the tournament, has teams Thokgyal and Ling Gesar Detshen qualifying through points. Except for Dungsam Khotsa, there is very less chance that any Samdrupjongkhar teams would qualify through wild card entry or karey total since it has the one of the lowest average total. The samdrupjongkhar has the team DOCC, which is earning the dubious reputation of having the lowest karey total in the 2014 league with their 13 kareys from 3 matches. But there more league matches to be played and so that maybe changed.
But it is assured that the team with the lowest total will not be from Trashigang, Trongsa or Tsirang since the league there has been completed and their lowest is much higher! From Trashigang, Danglingpas and Methidrang have qualified while from Trongsa, the three teams of Mangdeps, Targeter and Khordey Ngadey Zangpo come for eliminations like Semthuen Nga and Jojos from Tsirang. Kubera from Bumthang with 99 kareys could be one of the 'jokers'
A total of 72 teams will play the eliminations starting Aug 8 at Changlimithang. The league would be completed by Aug 3 in all of the regions.