30th Aug 2014         the Chief Guest Ashi Sonam Wangmo Yugyal presented the Rolling Trophy to team 'KTP Construction' for winning the 2014 Team Champion title in the 18th Yangphel Open Archery Tournament.
The last year's 2nd Runners Up team, the Pelden Group came in second this year. Till the 12th round, it looked as if Pelden Group would take the title but KTP Construction leveled during the 12th and then added one more in the 14th. Ironically, the KTP Constuction had the lowest team total from among the 3 teams of 39 kareys. Pelden Group hit massive 48 kareys while the 3rd best team of 2014 Yangki Auto hit 42 kareys. KTP Construction players were able to group their hits better.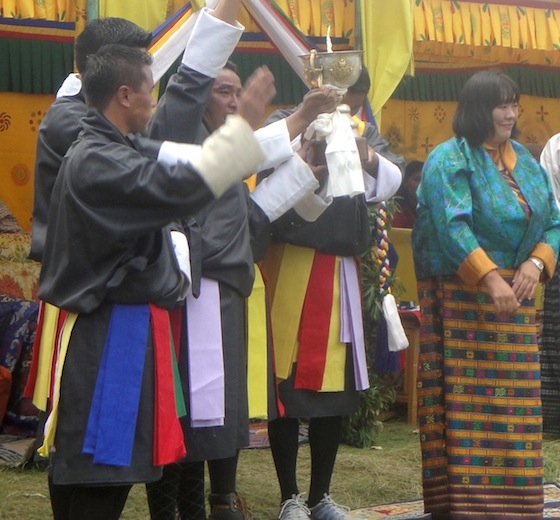 Pelden Group's Talop Namgay Wangchuk added 16 kareys from today's match to his 21 kareys from earlier two matches, winning him the Finals Most Valuable Player title.
All of the prizes were presented during the prize distribution ceremony including the Best Archer titles and their prizes. Tshering (team Tashi Tagay) lifted giant BOB cheque to Nu. 200, 000/- for being the best archer as did Tashi Dendup for Nu. 70, 000/- for being the Best Archer Runners Up and Nu. 15, 000/- by Chundu Dorji for becoming the third best.
The final match began with marching ceremony presided by Dasho Rtd. Col. Rinzin and ended with again Dasho leading the dignitaries to tashi lebay dance.