2nd Sept 2012      it was after team 'Pelden Group of Companies' completed their 7th straight win today that they became the 2012 Team Champions and received their prizes from Her Royal Highness Princess Dechen Yangzom Wangchuck, who graced the final match of the 16th Yangphel Open Archery Tournament as Chief Guest.
Her Royal Highness also presented prizes and certificates to Team Champion Runners Up – the team Yul-Gyel – the surprise finalist and 2nd Runners Up team 'Dragon Roots' from Phuentsholing.
From among the team champions – the Pelden Group, there was also the individual champion Tshewang Dorji (also known as 'ST') who took away prize of Nu. 200, 000/- that came along with 2012 Best Archer title. His team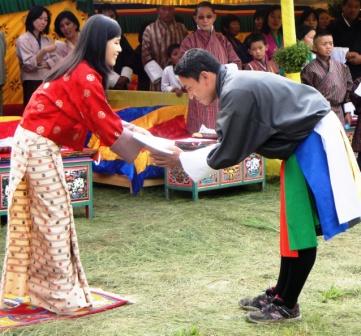 mate Tshetrim Phuntsho was the 2nd runners up to the Best Archer (with cash prize of Nu. 15, 000/-) while Best Archer Runners Up title with Nu. 50, 000/- was taken by Jigme Norbu of Blue Poppy Tours. Pelden Group's Tshering Gyeltshen and last year's Best Archer took the 'Finals Most Valuable Player' with total of 32 kareys in 3 final matches (quarter, semi & today's final). He also received the prize for creating record one day score last year, with 20 kareys in 20 rounds.
It was deserving win for Pelden Group, not only because of their prior performance in the in this year's tournament, ranking top in the league, hitting highest 50 kareys in the knockout stage and never having to go into penalty shootout to win a match but also because in today's final they hit 54 kareys – the highest of the present total. The semi finalists Gyelyong Gaki is the only team in the tournament that saw 260 teams that matched the total. Pelden Group is also 2012 team champions.
Pelden Group won with 2 game sets, one that was completed in the 4th round and the other that was completed in the 9th round.  Till the start of the 14th round, everyone expected Pelden Group to win but see penalty shootout between Dragon Roots and Yul-Gyel. But Yul-Gyell shattered everyone's hope of seeing an intense shootout when Yul-Gyel completed one game set in the 14th round.  Yul-Gyel hit 39 kareys while Dragon Roots hit 36.
Pelden Group's win seemed no surprise and most had not decided between two runners up anyway. And all of them are winners anyway, since they are the top three teams from among the 260 teams of different regions of our country. The Best of Bhutan!
Along with prizes for the tournament, there was also giveaway prize distribution that was given away by Ashi Sonam Wangmo. A total of 25 prizes were given out on free raffle while one was held to curb littering at the Changlimithang range. The winning lot number would be announced in Bhutan Observer issue of 7th Sept. 2012.