11 July 2009         One of the last year's finalists, the team TOB DHEN DHEY hit 61 kareys in afternoon match at upper Changlimithang range. Though it is being verified, many believe that it is the highest team karey total in the history of the tournament. None of the Tob Dhen Dhey players hit less than 10 kareys. One of their team members, Ata Sonam hit 17 kareys which is the highest so far in the present tournament. In the past, Talop Namgay Wangchuk, Gem Tshering and Karma Tenzin have hit 18 in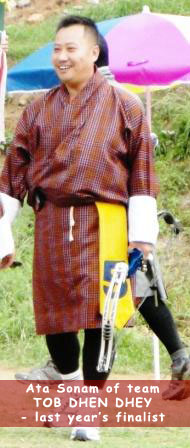 15 rounds. Among others, last year's Best Archer – 2nd Runners Up Karma Dorji hit 11 kareys.
Some of the spectators remarked that the two opponent teams of Jhalam Jhalam and Atlas Tours were present to "bear witness" to the landmark record being created. The two teams each hit 13 kareys and were not able to wrest a single score out of the whole match. Tob Dhen Dhey dominated the match early on by completing their first game set in the first round itself. And then went on to complete 8 game sets – which would be a record as well. They have averaged a game set in every two rounds. Along with the first one, they also completed a game set in single rounds of 12th, 13th and 14th
From among other matches of the day, one other notable performance was displayed at same range in the morning, when team Anitya hit 7 kareys in total – it would be lowest in the present tournament so far while there are lower total of 5 created last year when Chang Thuendel participated. Anitya was playing Jumlem 6 and Phola Apa. Phola Apa hit 10 more kareys than of Jumlem 6's total of 19.
At the other range, Kata Yana in the morning hit 32 kareys for two game sets to have Lama Bakery and Lha Gal Loo take away each three points with their 22 kareys each.
In the afternoon, BTCL, Tak Sing Chung Dru and Talop Nga performed almost equally with first two (mentioned here) hit 25 kareys each and the other 22 kareys.
In all, the day brought about the full length of performance scale – the best, average and lowest. But so far – it is only the 8th day of the league and the tournament – there are more than 30 days of league left and whole two months for the tournament to be completed. Each day is new.