18th Aug 2017   In association with the Bhutan Archery Federation, the Yangphel Archery Committee is organizing a short workshop on International Style of Compound Archery in Paro Tshondue bacho. The workshop, a first of its kind in Bhutan is targeted at the archers of Paro for now, but subsequently it will be taken to all the regional venues of the Yangphel Competitions and around the country.
The workshop is to create awareness of the international style of compound archery competition or the World Archery Style.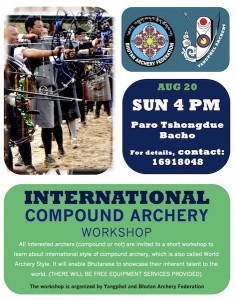 The Bhutanese have inherent refined talent in archery and has great potential to win honors at world / international level but this has not happened because the way it is popularly played here is quite different from those in international arena. As such, in order to address such a need of having our archers all around the country learn and practice in international style – to ultimately take the name of Bhutan to the top at world level, these workshops will be conducted all over the country.
Once every region have had their awareness workshops, towards the early October – a full competition will be conducted. In the competition, the ranking round or the qualification rounds will be conducted in different regions of Bhutan (if not different districts) and then eliminations (knockout) and the finals will be conducted in the capital Thimphu. There will be district champions declared.
This competition will be sponsored and organized by the Yangphel. The Yangphel Archery Committee will oversee the organization with technical supervision of Bhutan Archery Federation (BAF). The competition will serve to replace the popular Yangphel Open Archery Tournament and will feature attractive prizes (cash and kind) that are proportionately similar to earlier tournament. With the help of BAF, the winners will be given chance to represent Bhutan in international competitions.
The competition will be called BAF International Style Compound Archery Competition – sponsored and organized  by Yangphel