22nd May 2015      the list of players seeded for 2015 19th Yangphel Open Archery Tournament [1] has been announced by the organizing committee today. The archers have been seeded based on their average performance in last year's tournament.
This year, 180 archers have been seeded with cut off average of 7.4 and above while last year it was 7.1 Even though the cut off point have been increased, there are still more seeded archers than last year. It implies overall improvement in performance.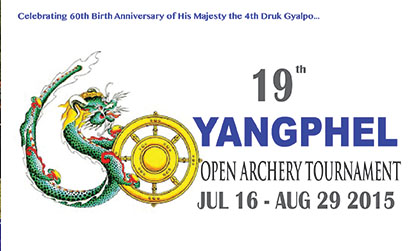 [2]
The individual average has seen slight increase to 4.3 as opposed to 4.2 of last year. The individual high remains at 13.5 average, which this year has been reached by Phub Dorji of team Tshering Metog from Thimphu Phaka region. From the same venue, the champion of 2015 tournament Tshering of Tashi Tagay rose, whose average though is lower to the top of 11.3 but his performance during the Best of Bhutan (top 15) Shootout made all the difference.
The region of Thimphu Phakha has the 2nd highest team average from among the regional venues of 27.4 kareys while Paro has the highest of 31 kareys across the teams. The Paro has also the highest number of seeded archers of 50 archers.
It expected that the performance in this year's tournament will improve given that the tournament is being dedicated to the 60th Birth Anniversary Celebration of His Majesty the 4th Druk Gyalpo.
Like every year, the tournament is to start July 16th and end by last Saturday of August i.e. the 29th this year. The registrations will open by 11th June.
There are more details for each region in the Seeded Players [1] page.