8th Aug 2012        just one day away from end of the 2012 league, there has been some surprises in it since it began on Jul 16, 2012. Contrary to general expectations, Tshewang Dorji of Pelden Group did not break the record even though he had the best chance from the first two matches. He could add only 6 kareys to his two match 34 kareys. He is still ranked the 2nd from among 1560 archers participating this year.
His team mate and last year's champion, Tshering Gyeltshen made to top 15 on Aug 5th, but was pushed out

very next day. Now ranked the 17th, Tshering Gyeltshen would not be able to contend to retain his title of Best Archer of the Year. The title would be contested (on Aug 19) among the top 15 archers, that includes Jigme Norbu with his 2012 record breaking performance, Talop Namgay – the three time champion, the consistent Sikkimese Chuing Dorjee Chanakpa, 2010 champion Keta Karma Thinley (ranked 10th) besides other top archers from around the kingdom. There is possibility that Gem Tshering playing tomorrow (Aug 9) in Paro morning match could become one of these top 15.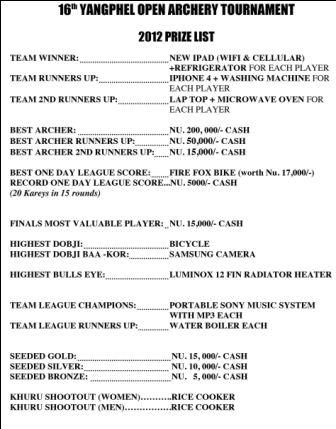 The Gem Tshering's team Gyelyong Gaki has high average of 41 kareys from two matches. But they will have to bring about higher total if they are to surpass Pelden Group's tournament high of 145 kareys. The closest to the total is 127 kareys by Dragon Roots in Phuentsholing.
These teams seem to have good chance for them to get the title of Best Team of Year and the team prizes, which, this year feature Apple devices such as New IPAD and IPhone4 beside other electronic and home appliances.  For the individual prizes, the change would be for the Best Archer and their Runner's Up prizes. The Best Archer prize, due to macro conditions, have been changed to Nu. 200, 000/- and there are slight increases in the Best Archer Runners Up and Best Archer 2nd Runners Up prizes.
Besides the regular category of prizes, this year, the prize for the Record Best One Day Score would be given to 2011 champion Tshering Gyeltshen. The prizes for record set during the ongoing tournament would be given next year. Jigme Norbu so would receive his prize next year, similarly the prize for the record Bull's eye would be given next year  to Nidup Dorji of Tsirang Dzongkhag, if it does not change till end of the league tomorrow. He would receive his highest bull's eye hit prize this year.  Yet for the official confirmation, we have to wait till the end of the league tomorrow. And even in one day, we could have surprises, going by what the 2012 league has shown us.