2nd Aug 2012       the temperature in Phuntsholing is being matched by the hot performances of tournament participants there!  Jigme Norbu of team 'Blue Poppy Tours' have set blazing league total of 46 kareys – the highest of not only the ongoing tournament but also of the tournament's entire 16 year history. In today's afternoon match, Jigme Norbu added 16 kareys to his earlier 30 kareys. He has hit 16, 14 and 16 in 1st, 2nd and 3rd league matches. The record till now is 45 kareys in 45 rounds set by Talop Namgay Wangchuck in 2010. It has been doused!
Jigme Norbu – ranked fourth in 2011, now leads the 1560 archers participating in this year's tournament. With such massive contribution from Jigme, his team easily took the 6 points from their Aug 2 match opponents Semthuen Charo and Karma Workshop. Blue Poppy brought in total of 46 kareys during the match.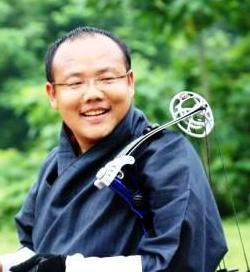 While the Blue Poppy's total remains the highest of the day, the highest of league (so far) has also been set in Phuntsholing by Dragon Roots with their total of 127 kareys (40, 43, 44). They have the best average. That could very well change, when Pelden Group shoots in Paro this Sunday (Aug 5). Pelden Group has highest one match total of 54 kareys in the ongoing tournament.  But as of now, the team of Phuntsholing leads in the league total.
And Phuntsholing leads in other numbers as well. The most number of archers ranked within the top twenty are from Phuntsholing, – nine out of twenty are from Phuntsholing while other eleven are from other 9 venues. It does not lead in number of team participating, but still it had 33 teams – third highest among the regions.
Going by the happenings, tomorrows (Aug 3rd) last match of Phuntsholing's league promises exciting finish.  While it ends in Phuntsholing tomorrow, the Punakha league ended yesterday. There are 8 teams qualifying from Punakha while there would be nine teams from Phuntsholing. They will join other teams that have qualified from different regions to battle out knockout and the finals in Thimphu Changlimithang ranges, beginning Aug 11.
With the league end in Phuntsholing, there would be matches only in Paro and Thimphu venues to end the tournament league on Aug 9. By then, we will know all of the 72 qualifying teams, including 6 wild card entrants. With such performances such as that of Jigme Norbu's team 'Blue Poppy' and Dragon Roots, the other qualifying teams and individuals have to watch out for Phuntsholing teams. They are on fire!
Will the Aug 5th Paro match of Tshewang Dorji (who has the one day highest total and best average from two matches) and his team Pelden Group (that has one day highest team total and best average from two matches) equal the intensity of Phuntsholing?