26th Jul 2012        the day after Talop Namgay Wangchuk added 16 kareys to his first match total of 15 kareys, Tshewang Dorji added 15 to his 19 kareys today at Paro Tshongdue bacho during the ongoing league of the 16th Yangphel Open Archery Tournament. Two of them have the best total from two matches along with Phuntsholing's Jigme Norbu of team Blue Poppy, with his 31 kareys. Between three of them, it is expected that record of 45 kareys in 45 league rounds would be broken this year. The record is held by the three time champion Talop Namgay Wangchuk.
As Talop was shooting in his last round on the 25th July, the teams playing in Thimphu Babesa bacho chose not to shoot their last round. It was easy choice for all of the playing members of teams Kabab, Tertons and Druk Semthuen to forego the last round, as they needed to save couple of lives. A white I20 car had slipped into the Babesa stream, near the range and two children were stuck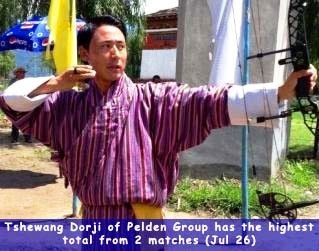 in the car. The lady driver, who went to save them, was swept away and later rescued by people downstream. The archers rescued the children out of the car in the stream.
The Tertons came out the winner of the six points from this match (even with the last round, result would have been the same) but all were the heroes after the sacrifice and the save. They remain to be top participants of the tournament and human beings.
Taking also performance in consideration, Tshewang Dorji and Talop Namgay are heroes and top archers of the ongoing tournament. Along with them, there would be others to be among the best 15 archers of Bhutan to shoot another 15 rounds on Aug 19,  battling to be the year's Best Archer of Bhutan.
Last year's best archer, playing alongside with Tshewang Dorji in Pelden Group has 19 kareys only, it would take some feat for him to be among the top 15, but if anyone can, it is him. His other team mate Tsheten Phuntsho has better chance with his 25 kareys. Their team Pelden Group would be among the top contenders, having even now the top team total of 104 kareys from two matches in the tournament and the top total of Paro league. After their third match on Aug5th, they could well surpass the top team total of the ongoing tournament which is 123 kareys set by Sikkim's Sichey Mavricks in Phuntsholing.