24th Jul 2012         the three time champion Talop Namgay Wangchuk hit 15 kareys in 15 rounds, nobody was surprised. Talop was playing for team 'Tak Tog Kari' Originally Talop was to play for his team 'Druk Shopping Complex' but he missed his first match and his team mates encouraged him to join a team that had not yet played their first match, so that he could start counting towards the grand prize and title of Best Archer. All of the individual prizes are based on league three matches, so that every one of participating archers (1560 this year) has equal opportunity.
No one was also surprised when Sikkim's Chuing D Chanakpa added 11 kareys to his two match total of 29 kareys on Jul 23rd. Despite the insistent rain then, Chuing maintained his form and went to be the archer with top total (of 40 kareys) as of now in the present tournament. He would surely be one of the top 15 archers shooting for title of Best Archer on Aug 19. His team mate Sangay G. Bhutia also has the chance to be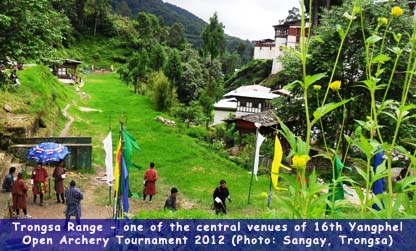 among them, though it is bit lesser. He could just be among them. Had his bow cable not broken on their 3rd match on Jul 23rd, he could have been comfortably in among the top. Going by last year's cut off, he just hangs in there.
Yesterday on Jul 23, Gem Tshering of Gyelyong Gaki could add 8 kareys to his earlier 16 karey total. As of now, he had the best chance from among those who have just completed 2 matches. His team's qualification remains certain, though they could only add 4 points to their earlier 5 points. They have hit 43 kareys in yesterday's match and 41 in earlier. Even if they don't qualify through points, and provided they perform at same level, they will be one of the six wild card entrants (or jokers) to progress to knockout in Changlimithang.
For the knockout itself, with end of league in Tsirang and Trashigang yesterday, six more names of 72 teams that would be playing in Thimphu Changlimithang is now known. From Tsirang, the team 'Fosters' and 'Dechen Cultural Tours' will play knockout. From Trashigang, the four teams of Dungsam United, Sonam and Ugyen Hiring, TraDzong and Kanglung Doros is coming to the national stadium Changlimithang. They would be joined in by two teams from Trongsa – the Mangdue Trophel and Tshering Chen Nga. The league in Trongsa was completed on Jul 21st
These teams and individual players like the ones aforesaid are those that have consistently given high performance. If they keep the same form, the knockout (which starts Aug 11, 2012) promises ever increasing level of performance and excitement.