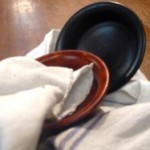 What was your wager this losar? Were you playing for your village or for your company? Or were you playing with your friends to mark the new lunar year?
After the match, you may have been one of the archers who simply produced phob tora (small square piece of cloth wrapped around a pair of wooden bowls) to receive the feast arranged by your opponents. You may have learnt that phob tora describes a type of wager where all that the winners do is produce phob tora while losers prepare a feast.
Or could you have been playing for zaachom or a feast, a variation of phob tora wager. Here, despite the match outcome, the winners and losers share a feast as well as expenses for it. If you were a winner, though, you would contribute lesser.
If you played for zaachom, sometimes, it would be midnight before you have your feast. Kinley, 40, from Kabji says, "It would sometimes be middle of night by the time we start feasting or zaachom because sometimes we would be promised fish and men go to catch them after the match." Kinley has been playing archery for more than 10 years.
Sometimes, wealthier individuals of the host village bear the expenses for zaachom. Then, you are obliged to treat them as the patrons with a special place in the match whatever their skill. If there were no such forthcoming individuals, the expenses are shared by the team members.
Zaachom is a usual wager for matches among friends and organizations. And because of increasing number of such teams, there is a variation to zaachom wager too. According to it, one team would host a feast while the other would bring scarves to mark hits.
During an archery match feast, you would be treated to a whole pig carcass with a number of vegetable and rice dishes, with chicken and fish sometimes high on the menu.
If you had played in Haa or Paro, you would have noticed that there were no team wagers or feasts, as practised sometimes. The visiting players in such a match, theko, are treated to meals individually by the host team members. Before the match, each member of the visiting team randomly picks up a bowl from a basket containing the opponent team members' bowls. The owner of the bowl you have picked up becomes your host and will provide you food and accommodation during the match.
This practice is similar to choenda or final matches (meaning annual matches) played in Sha and other parts of Wangduephodrang. Choenda matches have no wagers but feasts are hosted in turns irrespective of the match outcome. The match venue village is the host. All the team members share expenses equally. But, even in choenda, winning is more important than the wager.
Gyeltshen, 35, from Wangduephodrang said, "During choendas, teams may provide the best of food to each other but the players employ every possible means to win." Besides constant practice, "village astrologers are consulted and the order in which players shoot out is divined according to their age. Effigies of the opposing team members would be made and desecrated with every defilement and pollutant possible – like immersing them in pit toilets.
However crude the practice may be, you can justify that it is necessary. Otherwise, the losing team members would have to hear the taunting of the winners in every gewog gathering or at every encounter.
In whichever match you played, choenda or phob tora, were you part of betting within your own team as commonly done? This is designed to harness the full potential of team members during the match. Sometimes, the bet is a certain number of hits, reaching which one can take away a part or whole amount of a certain sum collected from the team members. Usually, the bet is Nu 50 or 100 from other team members, who have no hits in a particular round. This is how the whole team is strengthened.
During practice or pastime matches too, bets are staked. One can collect Nu 100, 200 or 500 for a lone hit or triple the amount for dobji or consecutive two hits in a round. At one time, Kabji Kinley has won Nu 18,000 in three hours through such bets.
But it is not only through kareys or hits that one can win money but also through kuu or game set wagers. In this, players are divided into threes or fours to play for five or seven game sets. The winning team walks away with the wager money of usually Nu 100 or 200.
Bahadur Rai, who works in Thimphu Hospital, says he is part of a group of twelve skilled archers, well known to one another, who put bets on game set as well as on individual kareys on Sundays. He has won Nu 8000 in a session and lost Nu 7000 in another.
But when you cannot finish a game set at dusk, you play chhagni style (sweep) wager. In this style, you can collect the game set's whole amount or a set amount from the individuals with your highest points in a single round. You do not necessarily have to hit the target to win. If others have no hits and your arrow has landed closest to the target, you take the sweepstake.
contributed By Tshewang
Source:www.bhutanobserver.com
7 March 2009