20th Jul 2012        during the first five days of the league, a record was nearly broken when Tshewang Dorji of team 'Pelden Group ' hit 19 kareys in 15 rounds. The record for highest one day league score (15 rounds) is 20 kareys – set by 2011 champion Tshering Gyeltshen last year and team mate of Tshewang Dorji this year. They were playing on 17th Jul in Paro – the 2nd day of the tournament. The record holder made 8 hits. Between two of them and other team mates like Tshetem Phuntsho who hit 13 that day, the team total was brought to 50 kareys, the highest of the tournament as of now.  They routed strong opponents like Druk Adventure Gears and Hotel Dam View with that total.
This 5th day end of the league also marks the 100th match of 2012 tournament, having had 2 matches played each day in 10 venues. The leagues in Bumthang and Monggar have been completed, from where there would be two teams each qualifying for the knockout stages in Thimphu Changlimithang.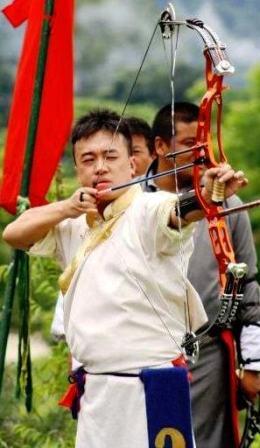 From Bumthang, Ja Tshen Nay Nga and Kiblung have qualified while from Monggar, teams of Chithuen Construction and Lhendup Rinchutse Charo would be coming to Thimphu. From among the losing teams of these venues, SJNB has the best chance to qualify through 'wild card' given that they have total of 94 kareys.
This 5th day also marks the time when in Phuntsholing league, the Sikimmese team 'Sichey Mavericks' hit resounding 48 hits in their match against STCBL and 'Kencho Tshering Const'  The Sikimmese Chuing Drj Chanakpa and Sangay Bhutia hit 14 kareys each – second highest of the day from all of the league venues.
The highest of the 5th day – 16 kareys, was made by Jigme Norbu of 'Blue Poppy Tours' in the morning in Phuntsholing. Jigme Norbu is one of the top archers of the tournament (and Bhutan) – ranked 4th last year.
This is just the 5th day, we still have 18 days (in some of the venues) to see what other days of the league would bring.  Going by what has come till now, the days should be full.